Posted under:
Root Canal
Posted on: December 23, 2016
Technology Makes Root Canals Easier Than Ever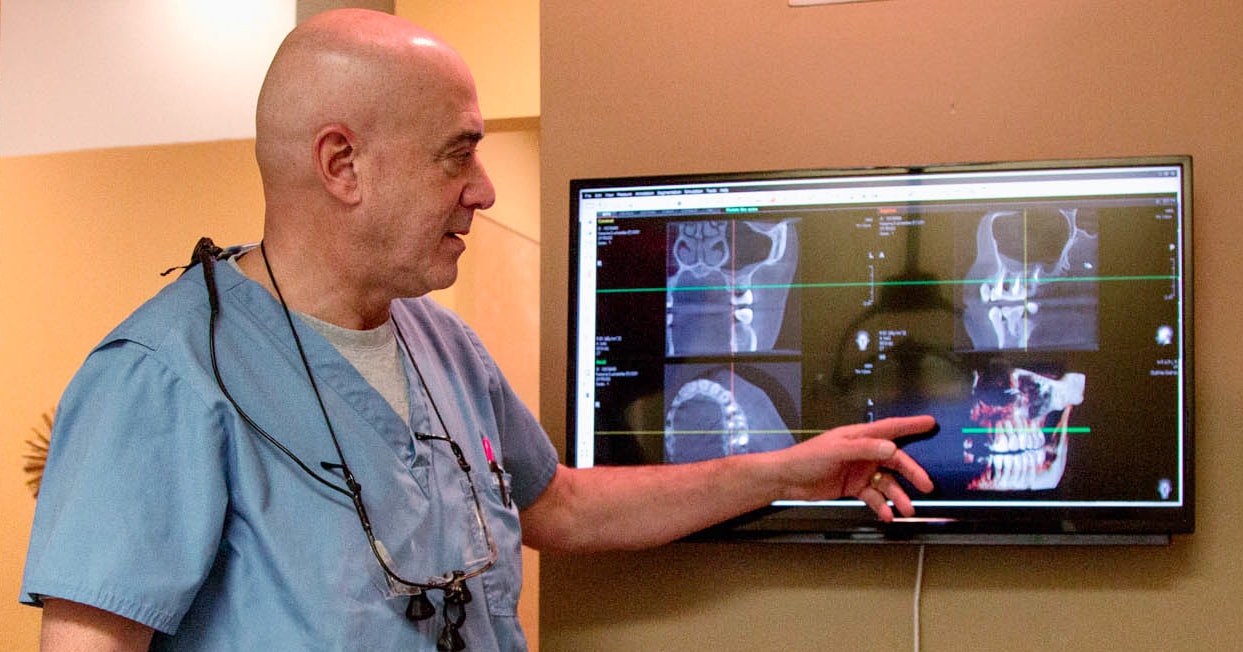 Root Canal Technology Advancements
Advancements in dentistry make getting a root canal today easier than ever. From the diagnostic tools that dentists use to the instruments and techniques used during the actual procedure, root canal therapy has gone high-tech. Now getting a root canal should be as easy and painless as getting a filling.
Diagnosing Root Canal Treatment with Dental Cone Beam CT Scans
Long Island endodontist Dr. Richard Marcus and his team use advanced technology for root canal diagnositcs. In addition to taking digital, low-radiation x-rays, which produce two-dimensional pictures of the teeth, the team can produce 3-D pictures with Dental Cone Beam CT technology.
What's the difference? Traditional x-rays provide flat views of the bone and teeth. Cone Beam CT technology produces three-dimensional tomography, which gives incredibly detailed views of the facial skeleton and teeth. The Cone Beam CT rotates around the person's head taking hundreds of pictures that are digitally compiled into 3-D radiographic images. The scanning time usually takes less than a minute and the low amount of radiation is about the same as a patient would receive with just one traditional dental x-ray.
The information is stored digitally and is available for view immediately. Dr. Marcus and his team can slice the 3-D image multiple ways, allowing them to visualize each individual root canal within a tooth. Remember, teeth have between one and three roots and within these roots there can be multiple canals, some as thin as a strand of hair. The high-resolution Cone Bean CT 3-D images show the exact shape and branches of each root canal, and the precise location of any infection.
High-Tech Magnification Technology in Root Canal Therapy
Another huge advancement in root canal therapy is the development of high-powered surgical microscopes and surgical loupes.
Dr. Marcus and his team of Long Island endodontists can look through loupes, which are like high-powered binoculars attached to glasses, or through a specially-designed microscope positioned over the patient's mouth to see the tiny root canals within each tooth. Many of these canals are so small, they can't be seen with the naked eye. The endodontists use a series of files, some as thin as a piece of thread, to carefully clean out the damaged pulp (nerves, blood vessels, and connective tissue) and replace it with a special, biocompatible material to preserve the natural tooth.
Anesthetics Increase Patient Comfort During Root Canals
Just the term "root canal" used to evoke images of painful process. Not anymore. New anesthetics make it easier to numb the tooth so patients don't feel any pain during the root canal procedure. Dr. Marcus and his team also have nitrous oxide available, which is commonly known as laughing gas. The patient simply breathes the air in through a mask, and remains awake and comfortable during the procedure. The effects of the nitrous oxide wear off within minutes of the mask being removed.
For patients with severe dental anxiety, there are other sedation options. Some patients prefer to be put to sleep for the root canal treatment. If that's the case, then arrangements can be made for an anesthesiologist to come to Dr. Marcus' endodontics office on Long Island to administer general anesthesia during the procedure. It's just one more way modern technology is making it easier than ever for people to receive the dental care they need.